We are a leading international property and infrastructure group based in Sydney, Australia, with operations across Asia, the Americas and Europe. With 35 years in the business of creating innovative and sustainable properties and enriching communities in Malaysia, our aim, moving forward, is to continue to inspire and enhance the lives of people around the world through our work.
OUR SUSTAINABILITY FRAMEWORK
Recognising sustainability is about more than just energy, water and waste, our framework centres on achieving three core imperatives supported by environmental and social focus areas.
Our work plays a significant role in supporting sustainable economic growth – growth that recognises the finite nature of our plant and resources, and provides pathways for economic prosperity for everyone.
Our work plays a significant role in creating vibrant and resilient communities and cities – that are adaptive and resilient to change, socially inclusive and valued by the communities who live, work and play there.
Our work plays a significant role in ensuring a healthy planet and healthy people – where we connect to and respect nature, and facilitate wellbeing.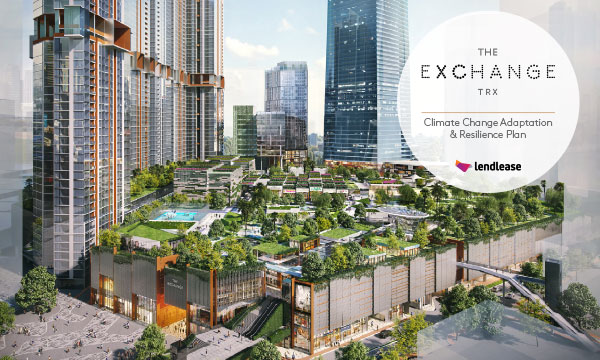 CLIMATE CHANGE ADAPTATION AND RESILIENCE PLAN
Lendlease has undertaken a climate risk analysis of The Exchange TRX to inform its design and support planning around the key climate risks that are likely to impact the development and its community. This report highlights the methodology and findings of our climate risk analysis. Additionally, the report also focuses on the key strategies and features of The Exchange TRX that reduce its vulnerability to climate change impacts and increase the adaptive capacity and resilience of its community.